Good News People!
I just filled out an application for the Missionay program at Optimum Health Institute, www.OptimumHealth.org!!!
This is the raw retreat that I went to before starting this blog, where I lost 145 lbs., and started my 3.5 year raw life. Please pray for my acceptance back into the program! It helped me tremendously 6 years ago, and I am praying to be blessed to be accepted back for a six month or longer stay. Pray, pray, pray!
In other news, I just wanted to give you an amazing recipe I just created. This is a cooked vegan Meatloaf recipe that I just came up with using what I had at home, and it is so good, I can't quite believe it, and I had to share it with you. It's not raw, but I do believe this recipe could be converted to raw vegan with some thought and work. So, I've done the thought and work for you, and I've added those ideas below!!!
While I'm still around, I might as well ENJOY before I'm floating in a sea of wheatgrass and Rejuvelac!!!
OMG, it was the meatiest fake meatloaf I have EVER had in my LIFE!!! So so good!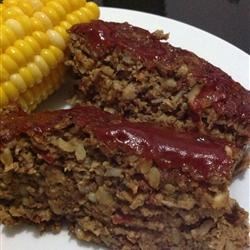 someone else's pic from online, but mine kinda looked like this!!!
COOKED VEGAN VEGGIE MEATLOAF
In large workbowl, add:
1/2 lb (uncooked dry measure) regular brown lentil beans, cooked in water
1 cup old fashioned oats
1/2 cup jarred vegan tomato sauce
1/3 cup veggie parmesan
1/2 cup olive oil
1 Tbsp Himalayan salt
In Cuisinart with S blade, process finely together:
2 cups raw brazil nuts
1 cup old fashioned oats
1.5 cups baby bella mushrooms
1 large carrot or 3 skinny old ones like I had
1 cup of raw leeks
1 small onion
3 cloves fresh garlic
1/3 cup fresh basil leaves
1 tsp fresh rosemary
1 tsp fresh thyme
1 tsp fresh oregano
Add processed brazil nut mixture to lentil mixture in large work bowl, and with hands, mix thoroughly until well combined. This mixture will be very moist and will not hold together, but it will after it is cooked and well rested.
Preheat oven to 400.

Plop the mixture into the bottom of a greased large rectangular pyrex. Mold the mix into a meatloaf shape. Bake on 400 for 1 hour.

Then, to create a ketchup-like topping, mix the following in a small bowl and spread ontop of the meatloaf while still in the oven.

1 cup vegan tomato sauce
1/4 cup agave
juice of 1 lemon
Bake for another 15 mins. Turn off the oven and allow the meatloaf to stay in the oven for another 30 mins with the heat off.
If served now, it will be soft and delicious and hot.
But it is even better after it sits out 4 or 5 hours because it will really firm up amazingly and become almost EXACT meatloaf consistency. OMG, SO GOOD!!
RAW VEGAN VEGGIE MEATLOAF SUGGESTIONS:
To create this meatloaf RAW VEGAN, you can sprout 1/2 lbs of lentil beans and process them in the food processor with S blade. If you don't mind using steel cut oats, you could soak them overnight and process them as well. I think one cup total would suffice. If you don't want to use the oats, I think you could use 1/2 cup flax powder total and get pretty good consistency. Instead of parmesan cheese, you could use 1/3 cup Nutritional Yeast flakes mixed with 2 Tbsp flax powder (to give cheesy flavor and elastic quality). Instead of jarred tomato sauce, you can use 10 sun dried tomatoes, soaked and processed along with all of the other vegetables. Try 1/2 Tbsp salt first and add more if you need it. I would mix the whole thing up and place on teflex in the dehydrator overnight on 105. For the topping, you could use 10 sundried tomatoes, rehydrated, blenderized with a little soak water, agave, lemon, and some salt. You could slather that on the meatloaf in the morning and let it dry another half or whole day.
In fact, that sounds YUMMY and I am excited to try this raw version!! If you try either version, please let me know!!!!
xoxo michelle joy